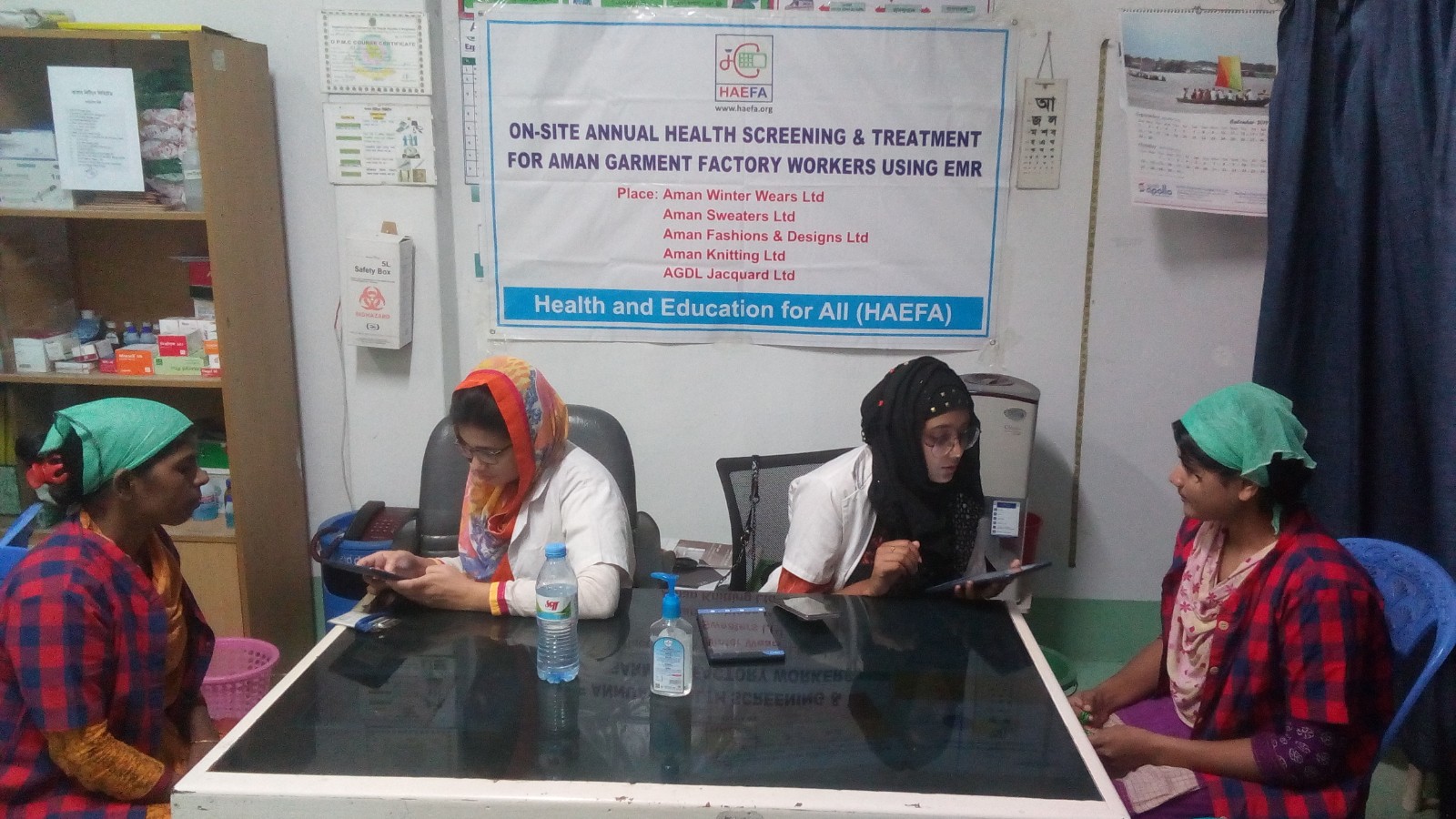 Garment factory workers
Garment factories do not usually maintain a safe working condition which can result in a myriad of health consequences for employees. Factory work includes exposure to many occupational health hazards, including respiratory symptoms and hearing impairment. Employees work long hours in harsh conditions, and often do not have access to quality healthcare. Therefore, many chronic diseases can go unnoticed while they are simultaneously exacerbated by these conditions. These health outcomes could be easily prevented with proper ventilation, better lighting, mandatory use of protective equipment, and regular medical checkups. HAEFA works to address factory workers' lack of regular healthcare through its implementation of a regular screening and treatment program.
HAEFA developed a four-station model which records medical data to a HIPAA compliant, encrypted database server that can be accessed by authorized medical professionals anywhere in Bangladesh. HAEFA's novel EMR system, NIROG, enables follow up care using bar coded patient ID cards. This environment friendly EMR system can run totally paperless and without electricity (solar-powered) and internet (Offline capable). HAEFA has screened more than 30,000 garment factory workers since 2013. HAEFA received the "Stars in Global Health Award" from the Grand Challenges Canada (GCC) in 2018-2019 to implement the novel EMR NIROG system for NCD and mobile colposcope-based one-stop cervical cancer screening and treatment program for 10,000 garment factory workers in Bangladesh.
Rohingya refugee
Over 1.1 million stateless Rohingya refugees (FDMN) have been living in Cox's Bazar, Bangladesh.
2017 marked the start of the greatest exodus of Rohingya, an ethnic Muslim minority, from Myanmar, precipitated by atrocities against the Rohingya people committed by the Burmese military. In a response to alleged Rohingya insurgent attacks, the army began a brutal slaughter of the Rohingya Muslims on August 25th, 2017. Up to 400 villages were burnt to the ground, and thousands of Rohingya were killed, raped, and tortured. The attacks were so atrocious that the crisis was called "fastest-growing refugee emergency in the world today" by the United Nations.
The Rohingya sought refuge in nearby nations, and the majority settled in Cox's Bazar in Bangladesh, on the western border of Myanmar, where camps had already sheltered Rohingya refugees for decades. In 2017, 690,000 Rohingyas fled to Bangladesh immediately following the attacks by the Burmese military, with the largest Rohingya camp in Kutupalong hosting 400,000 refugees. There are now over one million Rohingya refugees in the camps in Bangladesh, all of whom are living in close quarters in temporary shelters in an area prone to flooding and landslides.
The Myanmar Citizenship Act of 1982 stripped the Rohingya people of their citizenship, denying them access to healthcare and basic rights, and essentially making the Rohingya people stateless. NGOs working in the refugee camps often focus on treating acute infectious diseases such as diarrhea, fever, and cough. However, treating this population for noncommunicable diseases (NCDs) such as hypertension and diabetes and chronic infectious diseases such as tuberculosis (TB) is a critical and overlooked element of their healthcare, especially given the total denial of healthcare for the past 47 years. The need for patient follow-up and a longitudinal patient tracking system in the refugee camps is often unmet due to the difficulty of working in such a resource-limited environment.