Cervical cancer is one of the most pressing health issues in Bangladesh, with an alarming 12,000 new cases and 6,000 deaths reported every year. In fact, cervical cancer is the second most common cancer among women in Bangladesh, representing approximately 15% of all female cancer cases, as reported by the World Health Organization.
This dire situation has led to the creation of the Cervical Cancer Screening Training and Research Center of Dhaka Medical College Hospital (DMCH), which officially opened its doors to the healthcare workers on February 20th, 2023. The center aims to become the regional training hub for cervical cancer in Bangladesh, providing training to service providers from various districts and upazillas of the country.
The opening ceremony was a momentous occasion, graced by esteemed guests, including the Director General of Health Services (DGHS), Professor Dr. Abul Basar Mohammad Khurshid Alam (DG), and Additional Director General (Administration), Professor Dr. Ahmedul Kabir (ADG), who joined in the ribbon cutting ceremony to officially launch the center. The event was also attended by Dr. Nazmul Haque, Director of Dhaka Medical College Hospital (DMCH), Professor Dr. Shafiqul Alam Chowdhury, Principle of Dhaka Medical College Hospital (DMCH), Head of Department of Gynae & Obs. Gynae Oncology, Professor Dr. Nazma Haque, and Professor Dr. Fatema Rahman, along with other professors and departmental students.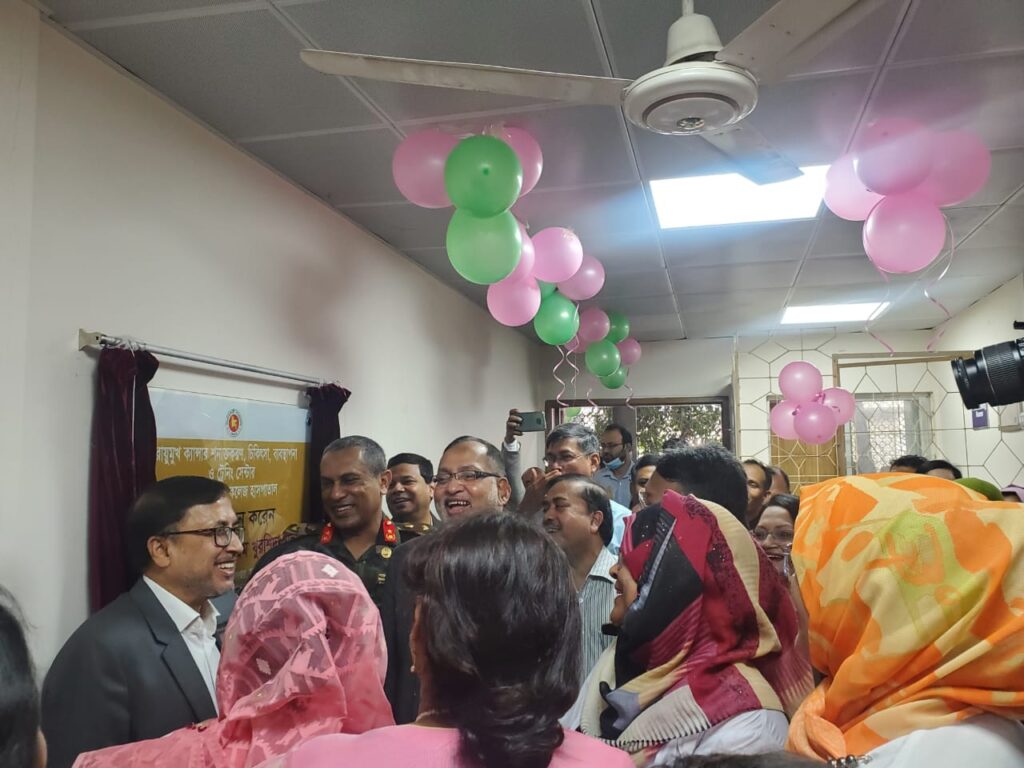 Additionally, Engr. ATM Zafrul Hassan, Country Director & CEO of Health and Education for All (HAEFA), Dr. Sharmin Sultana Urmi, National Clinical Coordinator of Health and Education for All (HAEFA), Md Shamsuzzaman, Program Analyst, Sexual Reproductive Health of United Nations Populations Fund (UNFPA), and Dr Fatema Shahjahan, Project Coordinator of United Nations Populations Fund (UNFPA) were also present at the event, highlighting the importance of this new facility.
The center has also received support from Brown University Global Health Initiative, Health and Education for All (HAEFA), and United Nations Population Fund (UNFPA)'s technical facilitators, who are providing their expertise to ensure the success of the center. In addition, these organizations are also involved in capacity building and strengthening public healthcare facilities of cervical cancer in nine upazilas of Kurigram District and six upazilas of Cox's Bazar District.
The center's primary focus is on capacity building and training of service providers to improve the quality of cervical cancer screening and treatment in Bangladesh. By providing a centralized location for training, the center will be able to offer accessible and effective services to those in need.
With the establishment of this new facility, the DMCH has set a new standard in the fight against cervical cancer.