HAEFA COVID-19 Response: 
 Presumptive COVID-19 Cases:
The number of COVID cases are rising all over Bangladesh including in the Rohingya camps.
HAEFA is providing free medical services in the Rohingya refugee camps.
 Cox's Bazar District:
More than  55 COVID-19 confirmed cases were reported in the district during the month of October. Currently, more than 350 contacts are in home quarantine.
 FDMN/ Rohingya Refugees:
In the month of October, more than 55 COVID-19 cases were reported. Presently, more than 70 contacts are in-home.
HAEFA Implementation of Project HOPE Mental Health and Resiliency Training:
HAEFA, in collaboration with Project Hope and partners at the National Institute of Mental Health, Sher-E-Bangla Nagar, Dhaka, is implementing "HERO-BANGLADESH," an online Mental Health and Resiliency Training of the Trainers for frontline healthcare workers including physicians, nurses, paramedics of Bangladesh.
Master Trainers will conduct two monthly training sessions beginning on the 15th of November 2021 through February 2022.
Participants of the training will be conducting cascading trainings to share mental health resources with their networks. HERO-BANGLADESH is aiming to train 3,000 healthcare workers by April 2022.
If you are interested in joining the training, please include your information in this registration form. If you have any questions about this training, please email mental_health@haefa.org.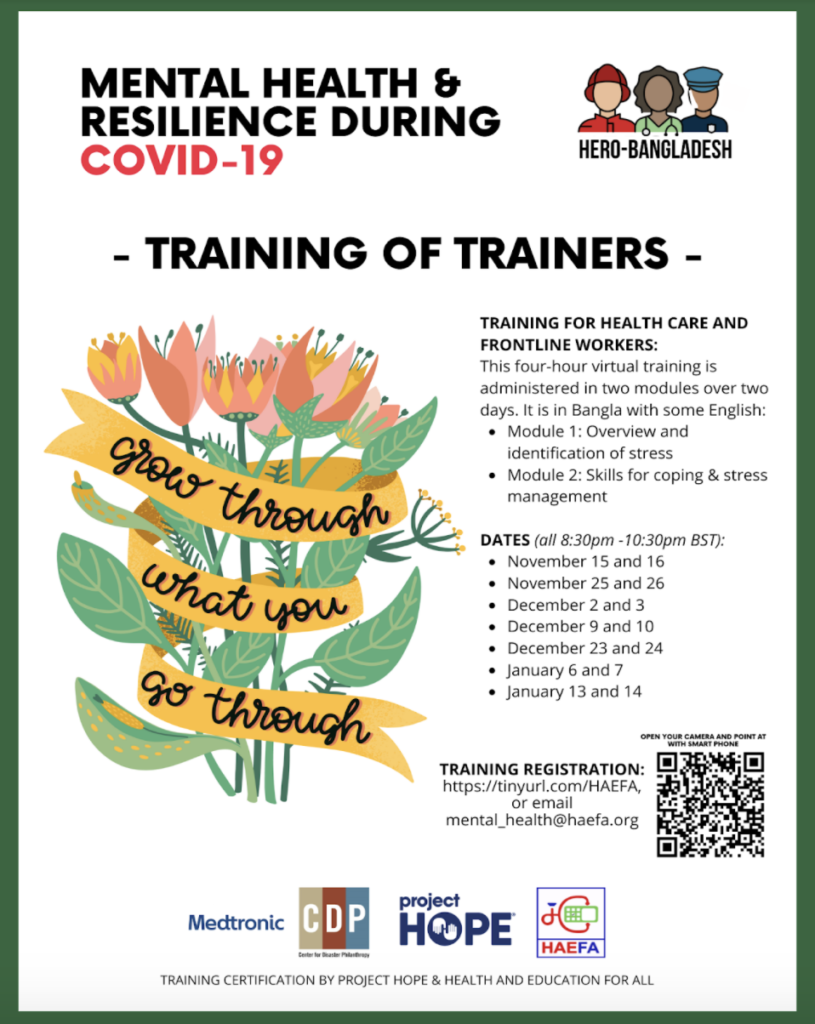 Advanced COVID-19 Clinical Management Certification Course:
In collaboration with Brown University CHRHS, Project HOPE, DGHS Bangladesh, Bangladesh National COVID-19 Guideline Committee, SCIB, and USAID, HAEFA has developed and launched a new, web-based, interactive Advanced COVID-19 Clinical Management Certification Course on the DGHS website.
Cumulative number of Doctors registered for the online training course as of 7th November:
Completed Certification MCQ Test: 836
Passed and Achieved Certificate: 426
The project is successfully completed, and the promotional film for the course is in the review process. The course will also be visible on a2i, Muktopath platform.
Web-based Advanced Clinical Management Course:
The tri-party discussion meeting was held between MaMoni-MNCSP COVID-19 Response Team, HAEFA, and a2i (Aspire to Innovate).
The objective of the meeting was to reach an agreement regarding the launching of a web-based Clinical Management course at the Muktopath platform.
HAEFA will promote and reach the maximum target audience through a2i's e-Learning platform 'MuktoPaath'; provide the necessary guidance, support, and coordination for successful implementation of this course.
The HAEFA Community Clinic Visit by UNHCR:
UNHCR representatives Dr. Allen Maina & Dr. Taimur visited the HAEFA community clinic in October.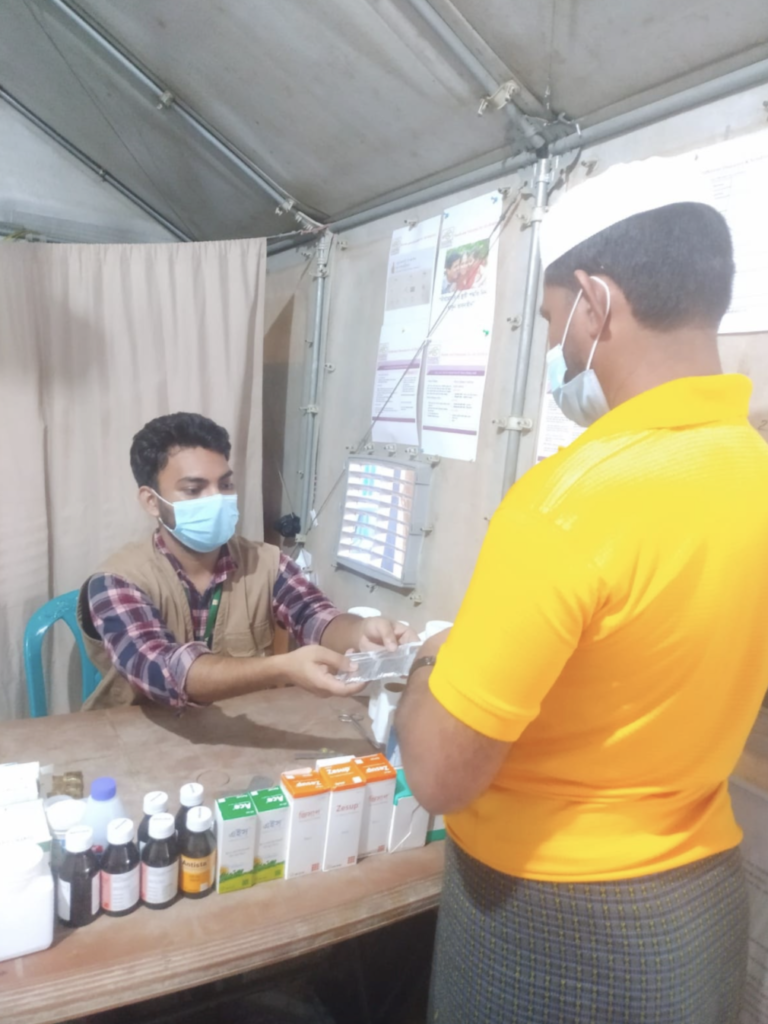 Family planning support and information:
The HAEFA team continues to promote Family planning counseling in Rohingya Camps as part of Family planning support and information.
Pathology Laboratory Information: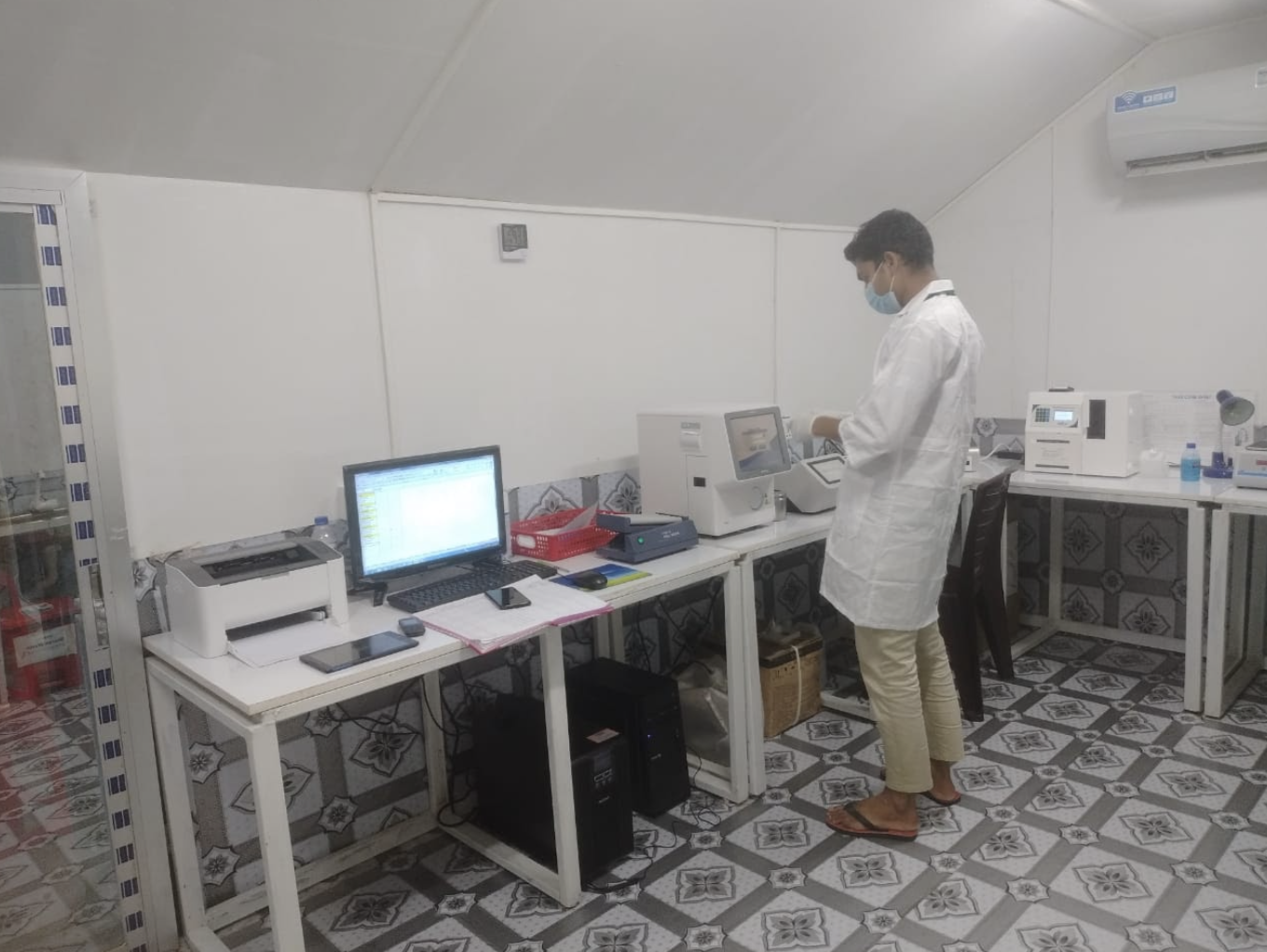 The lab started functioning on 11 October 2021.
The lab services include ASO (Anti-streptolysin O), Bilirubin test, Lipid profile, LFT (SGPT, SGOT), Pregnancy test, (RBS), HbA1c, Widal test – TO, TH, AH, BH, Serum albumin/creatinine/electrolyte/urea test, urine creatinine test
Samples from the Kutupalong camp were also transported to Balukhali as part of comprehensive health care services provided by HAEFA.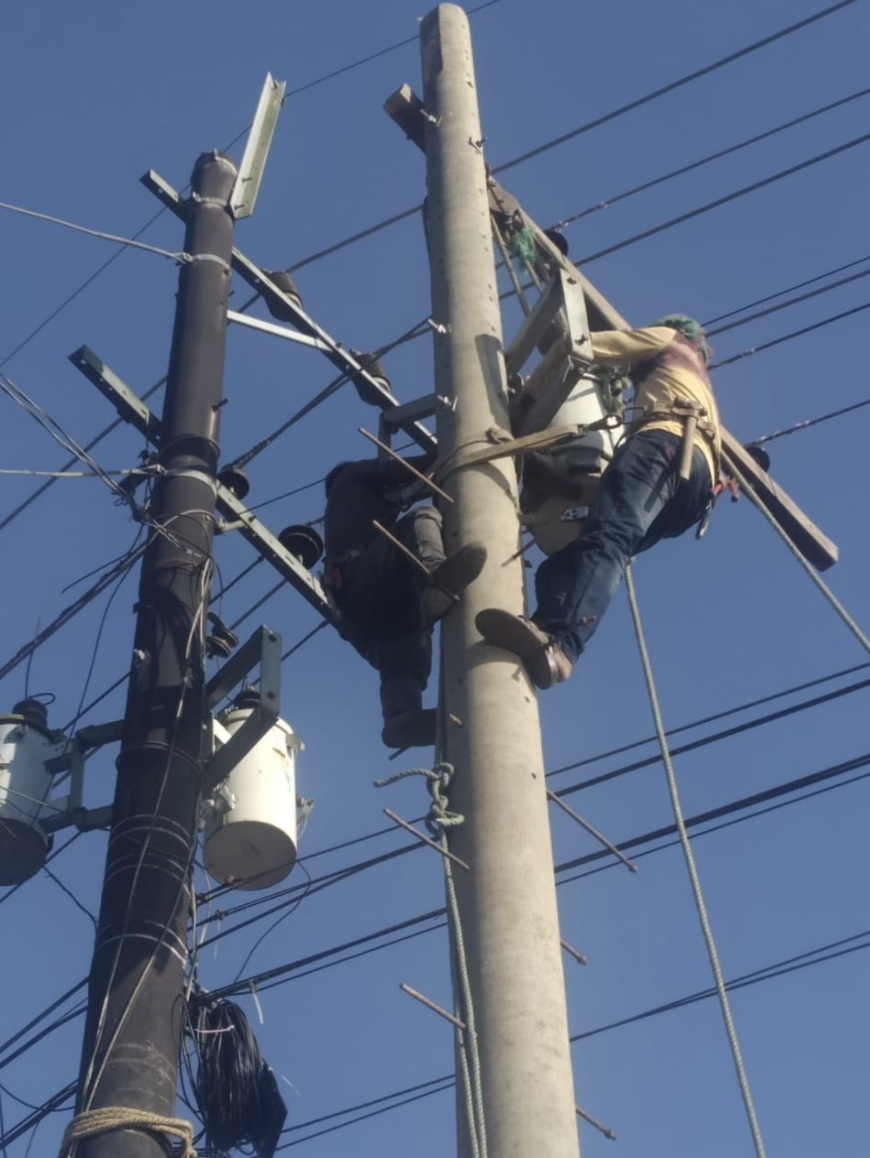 HAEFA is setting up a new transformer on a new electric poll for the Pathological Lab in Balukhali
Daily Synopsis Report of October 2021: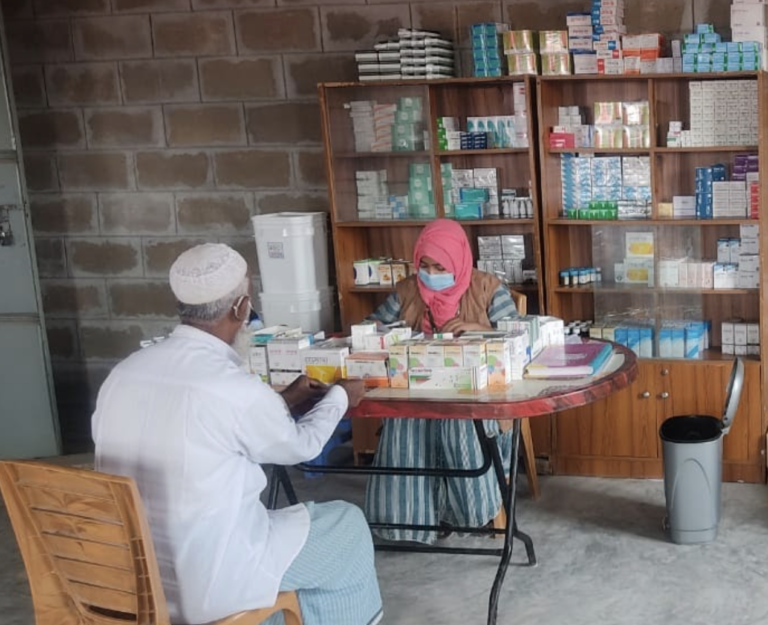 HAEFA healthcare professionals have been giving medical care to the Rohingya Refugees since its establishment. A summary of the medical conditions of the patients treated by the three camps of HAEFA is provided below. 
Kutupalong (Camp 1w): HAEFA team provided health care services to more than 2450 patients in the Kutupalong camp.
Balukhali (Camp 9): HAEFA team provided health care services to more than  1715 in the Balukhali camp. 
Bhashan Char FDMN: HAEFA team provided health care services to more than 1840 patients in the Bhashan Char FDMN camp.
The most prevalent cases were fever, cough, anemia, HTN, DM, skin diseases, presumptive TB, and other diseases among these camps. Prenatal care services were also provided.
Cervical Cancer (VIA) Screening:
In October, more than 2200 women were screened in 7 VIA centers in Cox's Bazar. Around 4% of cases were positive. 
Out of VIA-positive patients in Cox's Bazar, the CC CXB team referred one VIA-positive patient (suspected of >CIN2) to Cox's Bazar Sadar Hospital for further investigation.
VIA Camps: The HAEFA Cox's Bazar team organized VIA camps for the first time during this reporting time. The team organized four VIA camps in Ramu, Cox's Bazar Sadar, Chakaria and Pekua Upazila. Around 450 women were screened.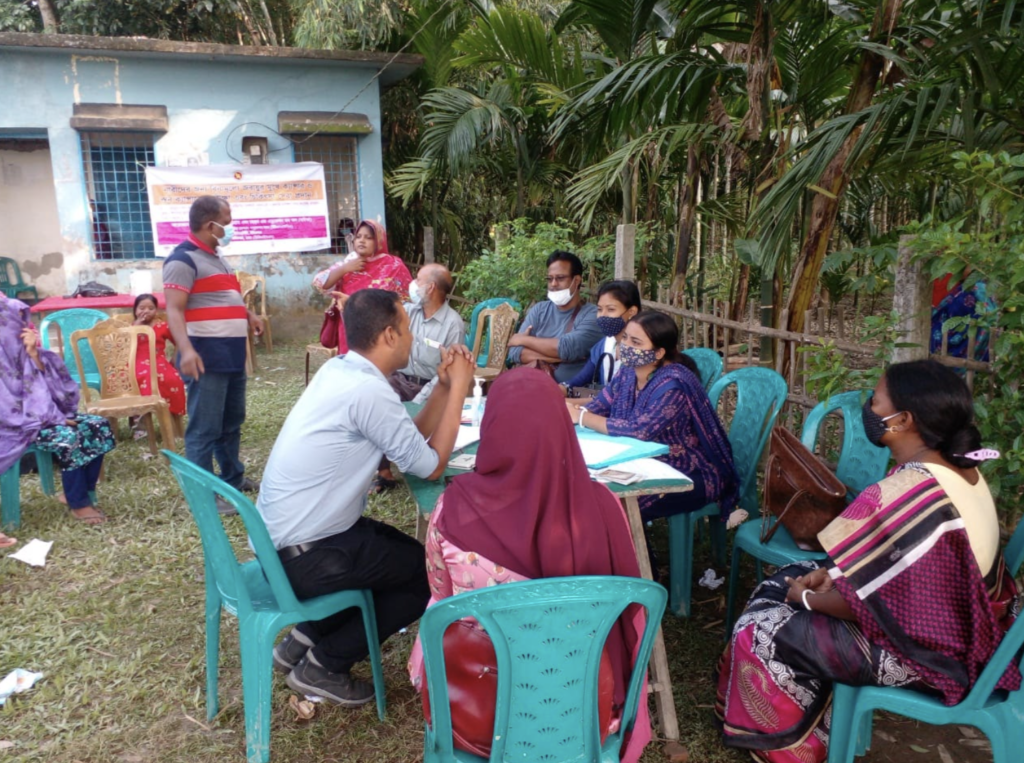 Kurigram:
More than two thousand and six hundred patients were screened for Cervical Cancer in the UHCs of Kurigram, and nearly around 20 cases were positive for CC screening in the month of October.
The HAEFA team at Kurigram is working to ensure referrals for more than 120 positive patients to receive tertiary care in Rangpur.
On 10/25/21 the UHFPO of Rajarhat health complex, Kurigram visited the HAEFA VIA camp and was pleased to see such an organized and successful camp to ensure preventive health care
1 patient's second cycle of chemotherapy began in September 2021 and was completed on 30th October, 2021.
Refresher training for the community facilitator by HAEFA Doctor was done on 31st October, 2021.