HAEFA Implementation of Project HOPE Mental Health and Resiliency Training:
HAEFA and Project HOPE collaborated on Mental Health and Resilience during COVID-19 Training of the Trainer Program. This program, developed by the New York City Department of Health to help health care personnel fight COVID-19, is currently being used in over 20 nations.
The inauguration took place on November 24th and 25th, 2021. Dr. Ruhul Abid, the president of HAEFA, hosted the event.
Eminent personalities from the health, education, public, and psychiatric sectors, including the respected Minister of DHSE, were present at the inauguration ceremony.
The Master Mental Health Trainers introduced two modules as well as interactive sessions.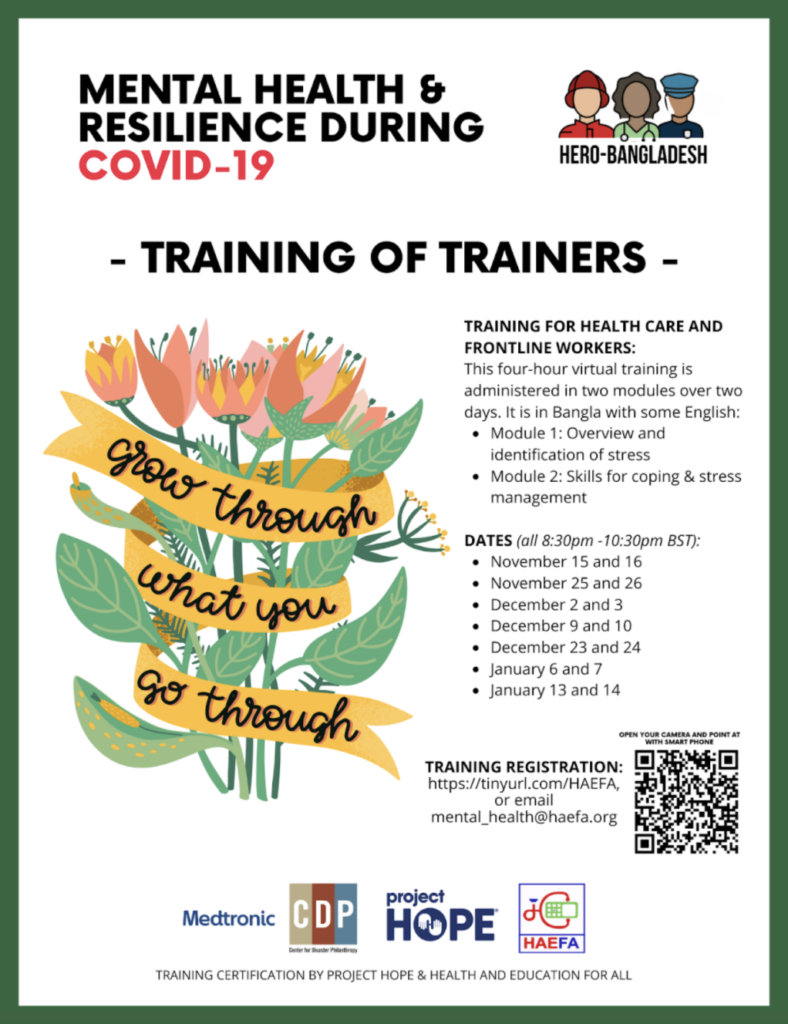 Advanced COVID-19 Clinical Management Certification Course:
This online course has been developed by HAEFA in collaboration with Project HOPE and The Center for Human Rights & Humanitarian Studies of Brown University, USA, with support from Save the Children Bangladesh and USAID. 
The main objective is to help physicians in Bangladesh acquire the most current, evidence-based COVID-19 management clinical knowledge and skills in an easily digestible and interactive manner. 
Cervical Cancer (VIA) Screening: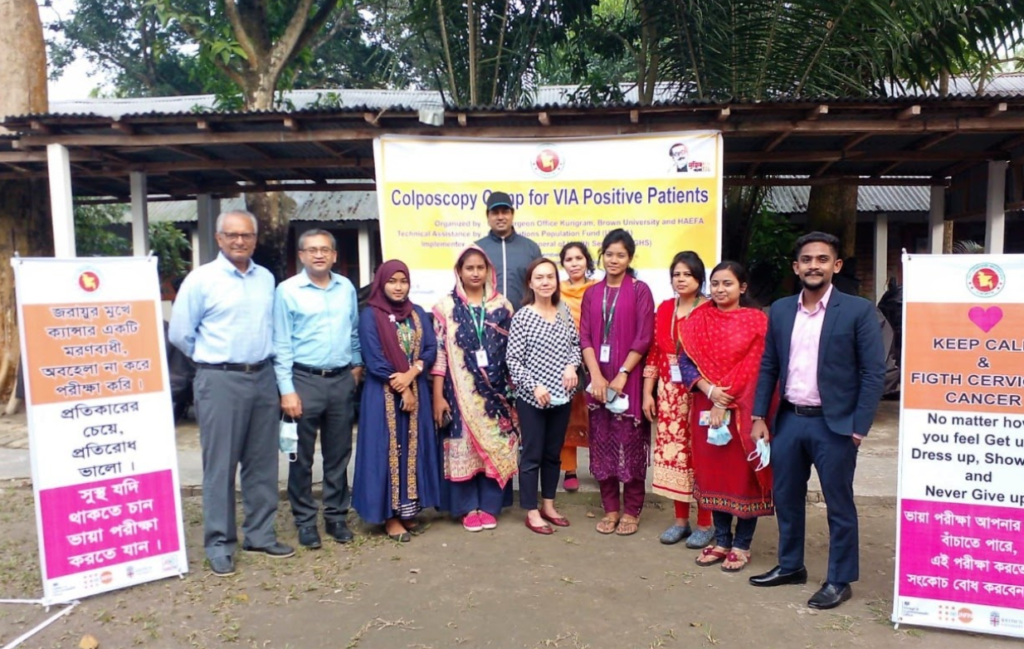 It was a great moment for the Kurigram Cervical cancer screening Team as the president of HAEFA, Dr. Ruhul Abid, and the Brown University Susan Cu-vin MD faculty visited the Kurigram project and provided health service facilities to the VIA positive patients who came from hard-to-reach areas.
In November, around 4500 women were screened for cervical cancer in 9 UHCs and 14 camps.
Kurigram:
Kurigram Cervical cancer screening project started functioning "see and treat" procedure. 
In Kurigram district hospital, Dr. Abid and Dr. Cu-vin inaugurated the newly dedicated VIA  room.
HAEFA Teams of Roumari and Rajibpur Upazilas started their boat journey carrying the VIA positive patients towards the Kurigram District Hospital to attend the Colposcopy camp.
Refresher Training on Operating Thermocoagulation was conducted in the presence of Civil Surgeon Susan Cu-Uvin, MD, Dr. Ruhul Abid MD at Civil Surgeon Office, Kurigram.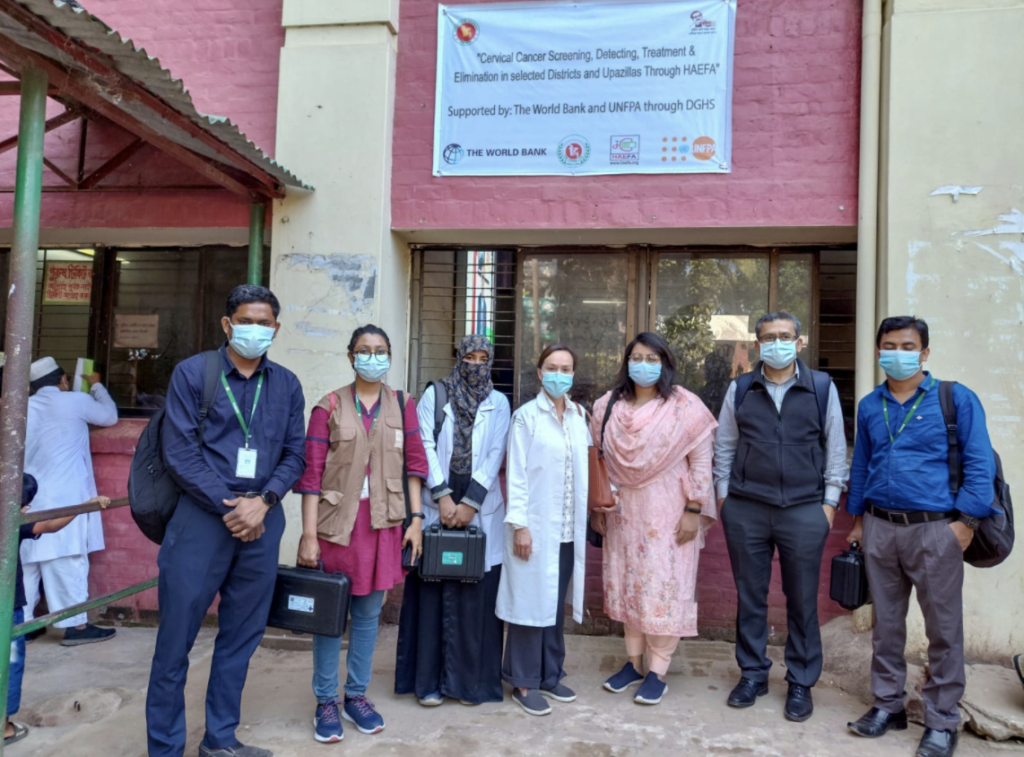 Cox's Bazar:
In November, more than 1600 women were screened in 7 VIA centres in Cox's Bazar. Around 35 cases were positive.
The CC CXB team referred VIA-positive patients to Cox's Bazar Sadar Hospital for further investigation. 
The CC CXB team will bring the positive patients to Colposcopy camps in Sadar Hospital and Pekua UHC for further analysis in 

December

.
The HAEFA Cox's Bazar team organized Sixteen VIA camps during this reporting time in six respective upazilas. Around 2000 women were screened. More than 25 cases were positive. 
Dr. Abid and Dr. Cu-vin visited Cox's Bazar Cervical Cancer Screening project and attended the Refresher Training on Operating MobileODT and Thermocoagulation Machine for See and Treat of Cervical Cancer in Cox's Bazar.
Rohingya Refugees' 7th Phase of Relocation:
Rohingya Refugees continue to relocate in the Bhasan Char, a tiny island in the Bay of Bengal from the world's largest refugee settlement in Cox's Bazar.
Family Planning Program:
The HAEFA team continues to conduct a monthly Family Planning session at kutupalong camp  1w. 
The team has counseled the importance of Family Planning among the Headmajhi,  Submajhi, Imam, and a few rohingya volunteers. They listened to the health problems faced by the attendees and ensured them to provide Family Planning services.
Daily Synopsis Report of November 2021:
HAEFA healthcare professionals have been giving medical care to the Rohingya Refugees since its establishment. A summary of the medical conditions of the patients treated by the three camps of HAEFA is provided below. 
Kutupalong (Camp 1w): 

More Than 3100 patients visited the Camp 1w, and had taken the Healthcare services.
The prevalent cases were Fever, Cough, DM, HTN, Asthma, COVID-19, and Dermatitis. 

Balukhali (Camp 09):

Around 2000 patients visited Camp 9, and had taken the Healthcare services.
The prevalent cases were Fever, Cough, DM, HTN, Asthma, COVID-19, and Dermatitis. 
Some Memorable Moments From The President's Visit:
The president of HAEFA had attended multiple health awareness sessions during his stay in Bangladesh. 
The President of HAEFA appeared on a TV program on a national broadcasting network to discuss the significance of HAEFA's healthcare services ranging from NCDs to cancer screening, treatment for the underprivileged people, and portable, solar-powered Electronic Medical Record (NIROG).
The most joyous moment for Dr. Abid was to witness and participate in the celebration of 50 years of independence of Bangladesh.