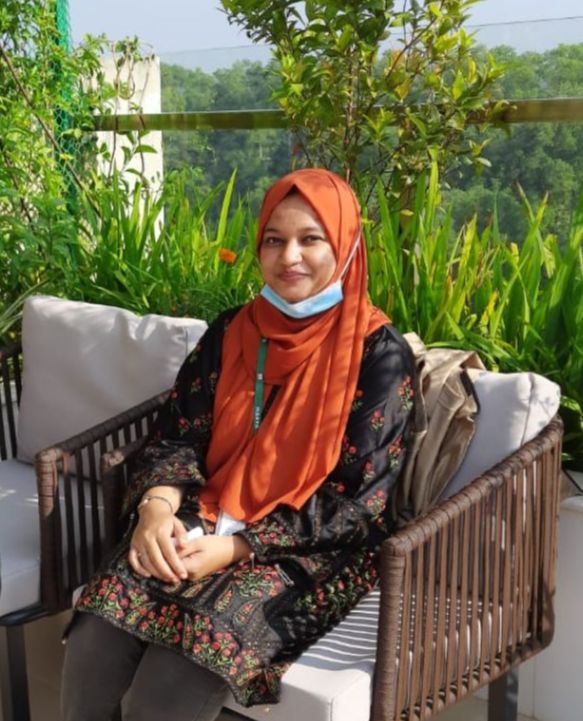 Meet Dr. Fairuz Fariha, HAEFA Medical Officer at the Cox's Bazar Rohingya FDMN (Refugee) Camp
This month we are featuring Dr. Fairuz Fariha! Dr. Fariha grew up in the capital of Bangladesh. She always wanted to help people and dreamt of dedicating herself to humanity and humankind through the divine path of medicine. When she was accepted to medical school her dream came one step closer to reality. After graduating from medical school, Dr. Fariha worked at several community clinics in Dhaka. But to pursue her dream of doing humanitarian work for underprivileged people, she decided to join HAEFA in June 2021. Since joining HAEFA a year ago, Dr. Fariha has been working as a Since joining HAEFA a year ago, Dr. Fariha has been working as a  Since joining HAEFA a year ago, Dr. Fariha has been working as a Medical Officer at the 
HAEFA Health Centers in Rohingya (FDMN) camps, leading two broad medical teams comprised of physicians, nurses, paramedics, health workers, IT assistants, and volunteers. The two HAEFA Health Centers treat an estimated 250-300 patients a day for six days a week, adding up to 6,000-7,000 patients served each month. In April 2022, more than 1,370 patients visited the HAEFA clinic at camp 09 in Balukhali and received free health care services, including medicines. Dr. Fariha shared that working with HAEFA has helped her to look at life's goals from a different perspective. For her, working at HAEFA is not only a job, it has become her life's motto to work for the people who have little or nothing. The HAEFA team thanks Dr. Fariha for her outstanding service and contributions.
HAEFA's Contribution to Ensure the Well-Being of Rohingya FDMN/Refugees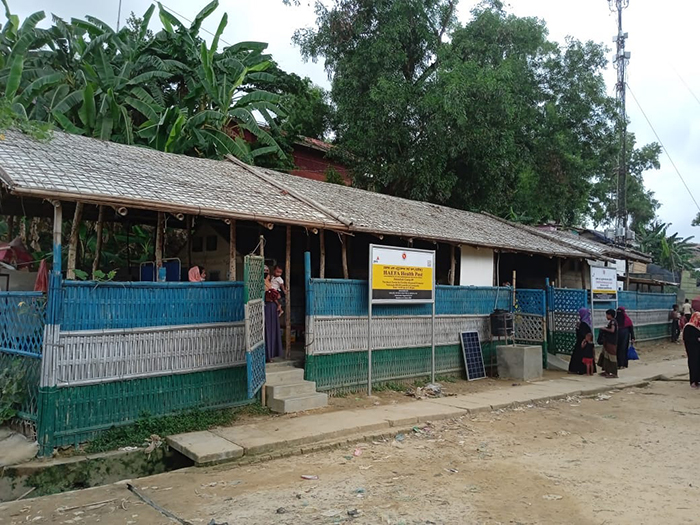 HAEFA healthcare professionals have been providing free medical care and medicine to the Rohingya FDMN since its establishment. In the month of May, more than 4,800 individuals received free medical care from HAEFA. 
Kutupalong (Camp 1W):
More than 2,255 patients visited Camp 1W in Kutupalong and received healthcare services.
129 laboratory tests were conducted at the NCD Path Lab.
Balukhali (Camp 09):
More than 1,265 patients visited Camp 1W in Kutupalong and received healthcare services.
147 laboratory tests were conducted at the NCD Path Lab.
Representatives from the World Diabetes Foundation, ​​Bangladesh University of Health Sciences, and Orbis visited the Health Clinic and NCD Path Lab to learn about HAEFA's work. We are thankful for their support!
FDMN Rohingya Camp at Bhashan Char:
More than 1,280 patients visited the HAEFA Medical Check-Up and Treatment for FDMN Rohingya Camp at Bhashan Char and received healthcare services.
New Weekly Mobile Medical Clinic for the Host Community in Ukhiya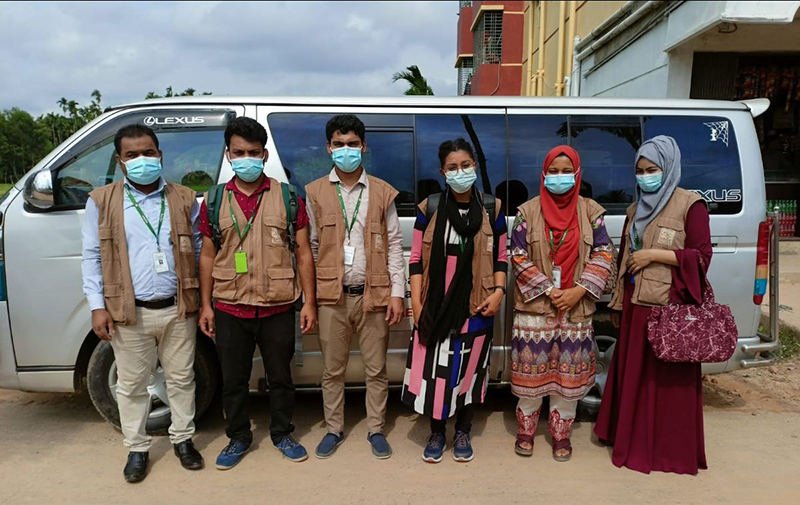 Due to enclosed wire fencing being installed around the FDMN camp, the surrounding host communities now have limited access to the HAEFA Health Clinics in Kutupalong and Balukhali to receive free medical screenings, treatment, and follow-ups. To help these host community patients access care, HAEFA has started a new weekly Mobile Medical Clinic for the host community in Ukhiya Upazila (subdistrict). This weekly mobile medical clinic is being organized with the consent of the Ukhiya Upazila Administration and the Upazila Health and Familly Planning Officer (UHFPO). HAEFA's weekly medical camp team for the host community consists of a Medical Officer, Medical Assistant, Lab Technologist, Midwife, and Dispenser. This team treated over 40 patients on the first day it opened in June 2022! Free services provided to patients included screening and treatment for non-communicable chronic diseases (hypertension, diabetes, asthma, malnutrition), communicable diseases, and Family Planning services. The National Project Coordinator Ms. Tabassum led this operation during her recent visit to Cox's Bazar.

Read more here.
HAEFA See-and-Treat Cervical Cancer Screening and Treatment Update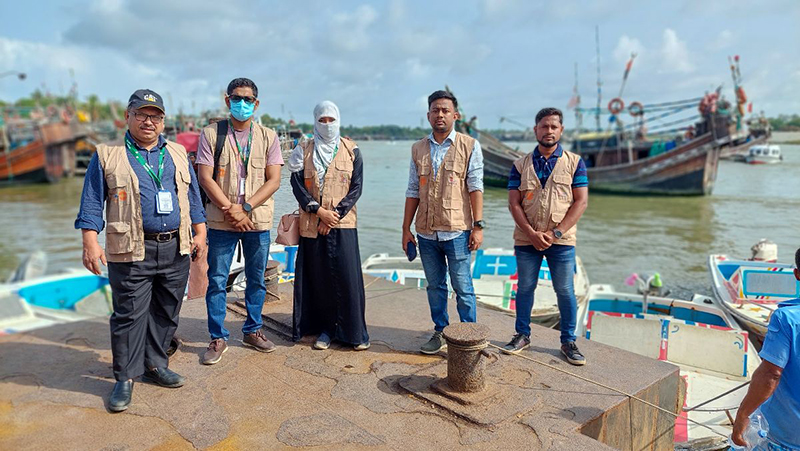 Cervical cancer kills 6,582 women annually in Bangladesh. The Bangladeshi cervical cancer diagnosis rate is ~2 to 3 times higher than the U.S. and has a mortality rate 5 times higher. HAEFA has implemented a "See-and-Treat" Cervical Cancer Screening and Treatment program to lower these numbers. In the month of May, using mobile (digital) colposcope and thermocoagulation, HAEFA has provided see-and-treat services to more than 4,300 women.
In Kurigram District, HAEFA provided over 1,665 women with cervical cancer screenings conducted in 9 Upazila Health Complexes (UHCs) and 6 camps. 5 patients were found VIA positive through the initial screening test and referred for further investigation and treatment.
In Cox's Bazar District, over 2,635 women were screened in 07 VIA centers (Sadar Hospital, MCWC, Ramu UHC, Moheshkhali UHC, Chakaria UHC, Pekua UHC, Kutubdia UHC) and 13 VIA camps in the respective Upazilas of Cox's Bazar, including two hard-to-reach areas Kutubdia and Moheshkhali. 11 cases were found positive through the initial VIA screening test and referred for further investigation and treatment. The Cox's Bazar Project team also followed up with six previously identified cancer patients and referred them to Chattogram Medical College and the National Institute of Cancer Research Hospital (NICRH) for further treatment.
UNFPA – HAEFA Kurigram Cervical Cancer Project Visit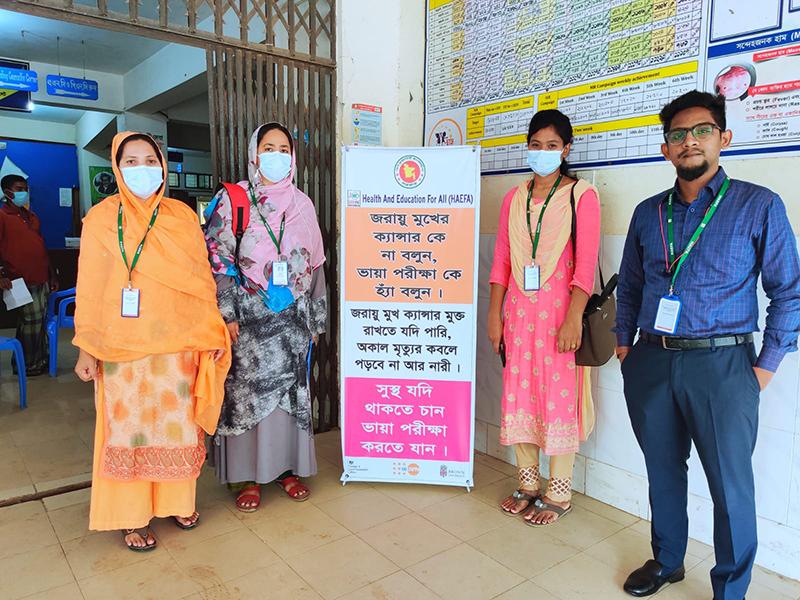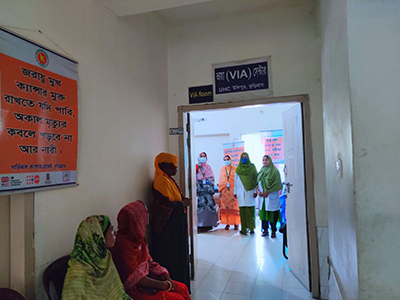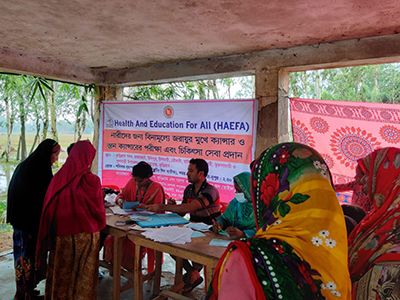 From June 7-9, 2022, the National Operation Manager of HAEFA Bangladesh Mr. Hossain made a three-day visit to monitor and evaluate HAEFA's "UNFPA Cervical Cancer Screening, Detection, Treatment, and Elimination in Kurigram District" project. During his visit, he met with HAEFA medical team members and government SSN, MW, and physicians at Kurigram Sadar, Ulipur, Chilmari, and Nageshwari Upazilas. The visit included discussions with HAEFA staff in the Kurigram project office about existing project activities and challenges, along with how to strengthen the on-site screening & treatment and chain process of the project from Community Clinic to Upazila Health Complex to Sadar Hospital. The visit also included going to the Nageshwari Upazila for an on-the-ground inspection of the hard-to-reach area VIA Camping, which was held at the Indragot Community Clinic. The difficulties and obstacles of operating VIA camping at the CC level in hard-to-reach areas, as well as the community reach rate, were noticed. One of the impressive findings from the assessment is that about 50,000 patients have been screened and treated as part of the HAEFA-UNFPA Cervical Cancer Program, with a 6-month prediction indicating that the 95 percent objective of the established program will be met.
HAEFA Ships Packages of Medicine to Bhashan Char Health Clinic from Chittagong Port
Chemical explosion in Sitakunda, Chittagong kills at least 49 people
On Saturday, June 4, 2022, around 9 pm, a fire consumed a storage depot in Sitakunda, an upazila in Chittagong. Hundreds of firefighters, police and volunteers arrived at the site, and as they attempted to extinguish the blaze, several of the shipping boxes—believed to contain chemicals—were engulfed by the flames and the rescuers were met with a huge explosion. The explosive noise of the blast even resounded half a mile away and smashed windows. Reportedly, there were about 3,000-4,000 containers at the depot; 33 contained hydrogen peroxide. As flames spread, one explosion triggered yet another. Ambulances hurried the wounded to nearby hospitals, where beds were overfilled and crowds were awaiting medical care in the halls, while some were airlifted to Dhaka. By two days after the incident, about 50 people had died—and the death toll was expected to increase—and many people lost their limbs and were in critical condition, and others were missing. On Monday, June 6, the fire was still blazing but it was under control. 
The depot was said to have housed millions of dollars of garments intended to be exported to Western companies. Over the past 10 years, Bangladesh's garment industry flourished to become the world's second largest exporter of clothing. Unfortunately, such industrial fires are not quite infrequent. A need for enforcing safety regulations is felt. As per the Bangladesh Fire Service and Civil Defense, more than 21,000 fire-related incidents took place in 2020.

We extend our deepest condolences and prayers to anyone and everyone affected by this tragedy, including the family, friends and loved ones of those who heroically lost their lives. As an organization that strives to enhance the wellbeing of Bangladeshis, HAEFA is planning to train and equip a part of its team members with safety and preventive measures to ensure that industrial workers and people, the foundation of Bangladesh's growth, are protected.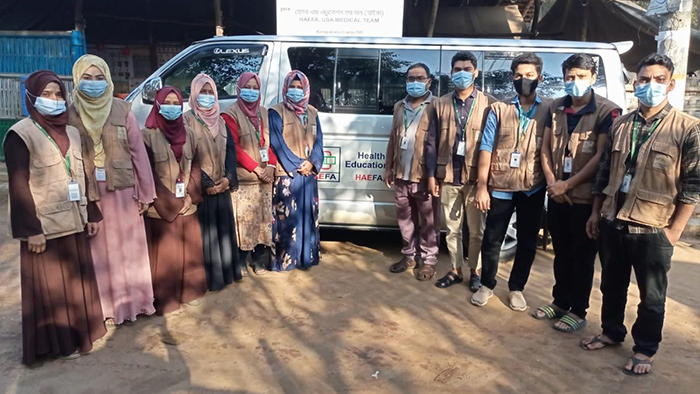 HAEFA is constantly in need of donations to support the Rohingya FDMN (refugee) healthcare and COVID-19 relief efforts. Any support, whether donations, outreach, aid in collaboration from personal and professional involvement, or any other method of providing support to HAEFA and its underprivileged, underserved and displaced beneficiaries will be greatly appreciated! All donations to HAEFA are tax-deductible as allowed by the laws in the United States.
𝑯𝑨𝑬𝑭𝑨'𝒔 𝑻𝒂𝒙 𝑰𝒅𝒆𝒏𝒕𝒊𝒇𝒊𝒄𝒂𝒕𝒊𝒐𝒏 𝑵𝒖𝒎𝒃𝒆𝒓 (𝑬𝑰𝑵) : 46-2997707
𝑵𝑻𝑬𝑬: Public Health Program (E70)
Text-to-Donate: 53-555 (Keyword: HAEFA)