HAEFA warmly wishes you all a blessed and happy Eid this year. May this auspicious occasion bring happiness, joy, peace, and prosperity to you and your family.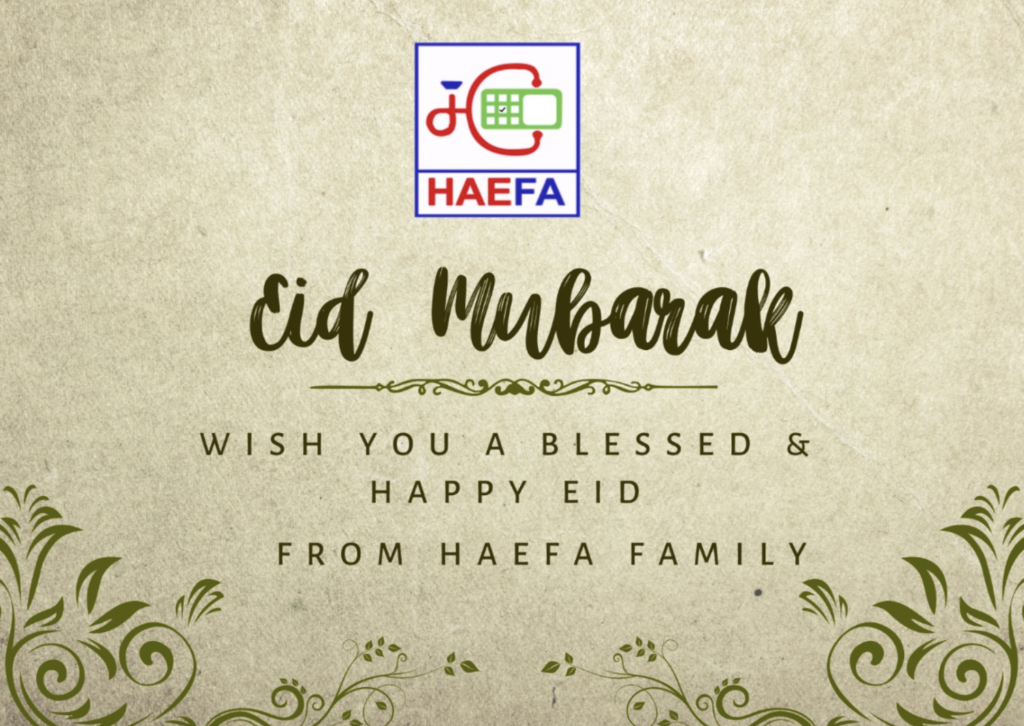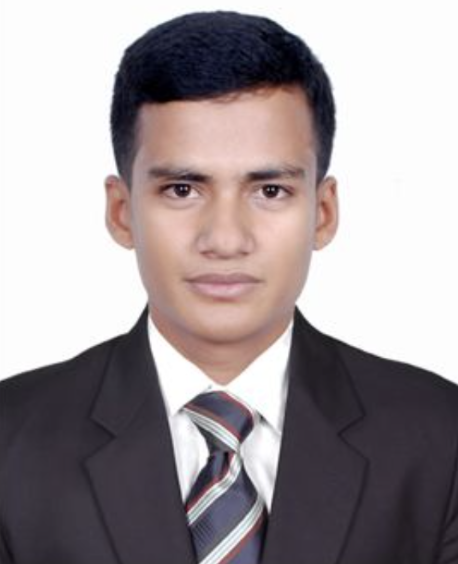 Meet Billal Hossain, Project Assistant for HAEFA's Cervical Cancer Screening Program
This month we are featuring Mr. Billal Hossain! Mr. Hossain joined the HAEFA team in 2017 as an Information Technology (IT) Assistant with the Cox's Bazar Rohingya (FDMN) project of HAEFA, helping to launch HAEFA's electronic medical record (EMR) system known as ''NIROG''. In 2018, he began working on a new HAEFA healthcare project in Dhaka, providing free medical services to ready-made garment (RMG) factory workers. Following this, in 2021, Mr. Hossain was promoted to Project Assistant for the UNFPA cervical cancer "See and Treat" screening and treatment project, providing moral support and also financial assistance to cervical cancer patients on behalf of HAEFA, as they underwent treatments.
Mr. Hossain has humbly dedicated his life to doing good for the underprivileged class of the population. We thank him for his incredible work and service.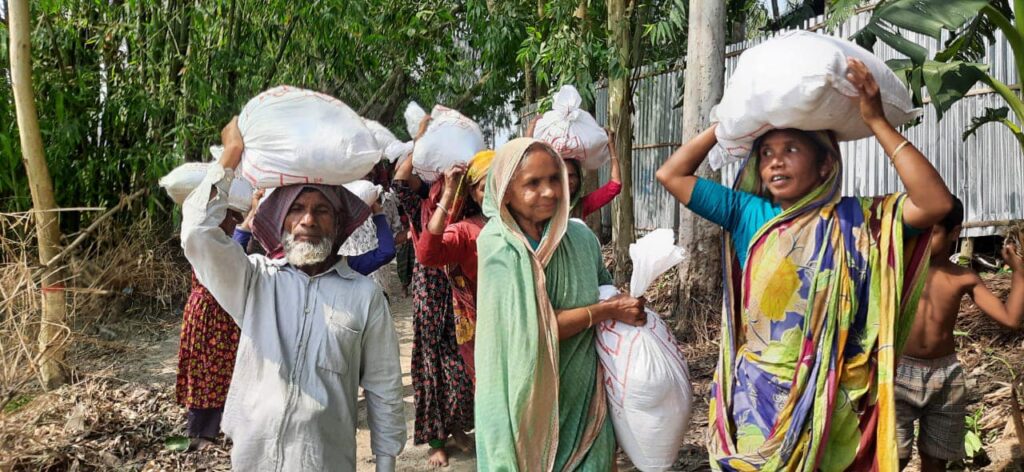 Thank You For Helping HAEFA Deliver Emergency Food Packages to 750 Families This Ramadan!
With the help of our generous donors, HAEFA was able to provide two-week emergency food supplies to 750 underserved families in 5 districts of Bangladesh during this Ramadan. Due to COVID-19 lockdowns and joblessness, 24.5 million people and almost 500,000 families went below the poverty line in Bangladesh in 2021.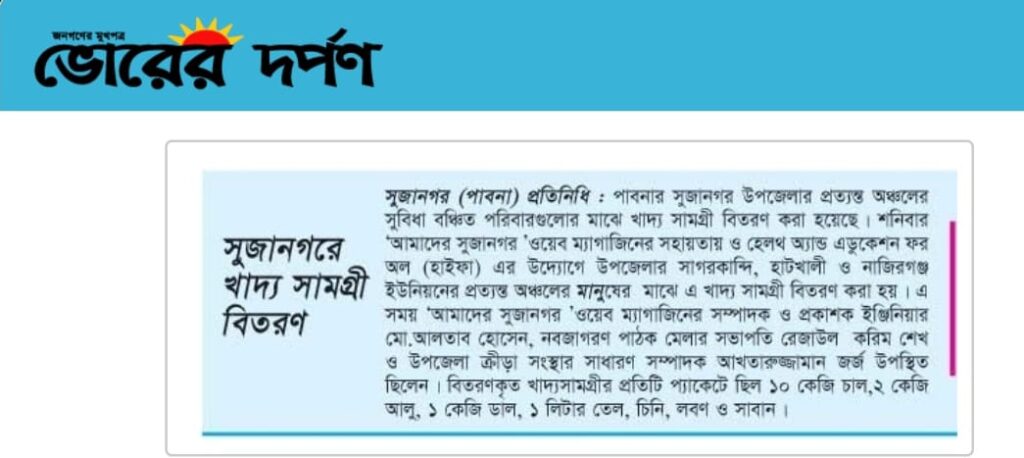 "On May 1, 2022, with the help of the web magazine "Amader Sujanagar", HAEFA sponsored food distribution among 50 underprivileged families of the Sujanagar Upazila (including Shagorkandi, Hatkhali, and Najirganj Unions) of Pabna district in Bangladesh. For each family, 10 kgs rice, 2 kgs potatoes, 1 kg lentils, 1 L cooking oil, sugar, salt, vermicelli, and soap was provided. During the food distribution program, the Editor and Publisher of the web magazine "Amader Sujanagar", the president of the renaissance reading fair (Nabajagaran Pathak mela), and others were present."
HAEFA See-and-Treat Cervical Cancer Screening and Treatment Update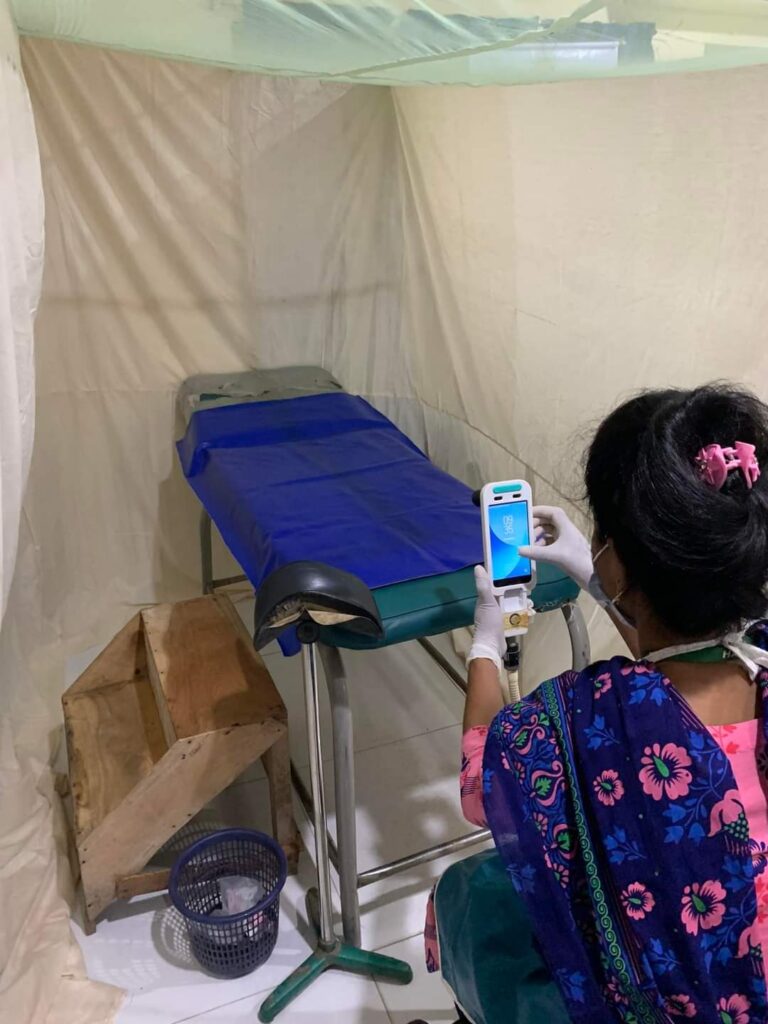 In April 2022, HAEFA provided over 1290 women with cervical cancer screenings conducted in 9 Upazila Health Complexes (UHCs) in Kurigram District. Around 10 patients were found VIA positive through the initial screening test and referred for further investigation and treatment. In Cox's Bazar District, over 615 women were screened in 07 VIA centers (Sadar Hospital, MCWC, Ramu UHC, Moheshkhali UHC, Chakaria UHC, Pekua UHC, Kutubdia UHC). 5 cases were found positive through the initial VIA screening test and referred for further investigation and treatment. The HAEFA team organized VIA camps in hard-to-reach UHCs before Ramadan. No VIA camps took place during Ramadan.
Image: Digital-Colposcope for "See-and-Treat" Cervical Cancer Screening and Treatment
HAEFA's Contribution to Ensure the Well-Being of the Rohingya FDMN/Refugees 
HAEFA healthcare professionals have been providing free medical care and medicines to the Rohingya FDMN since its establishment. In the month of April 2022, more than 4,100 refugees received free medical care from HAEFA in three camps. 
Kutupalong (Camp 1W):
More than 2350 patients visited Camp 1W in Kutupalong and received healthcare services.
129 laboratory tests were conducted at the NCD Path Lab
Balukhali (Camp 09):
More than 1370 patients visited Camp 1W in Kutupalong and received healthcare services.
116 laboratory tests were were conducted at the NCD Path Lab
FDMN Rohingya Camp at Bhashan Char:
More than 1380 patients visited the HAEFA Medical Check-Up and Treatment for FDMN Rohingya Camp at Bhashan Char and received healthcare services
HAEFA medical doctors in Cox's Bazar attended a training session on scabies control strategies and treatment that was organized by the World Health Organization. According to the WHO, the most vulnerable groups – young children and the elderly in resource-poor communities – are especially susceptible to scabies, which was designated as a Neglected Tropical Disease in 2017.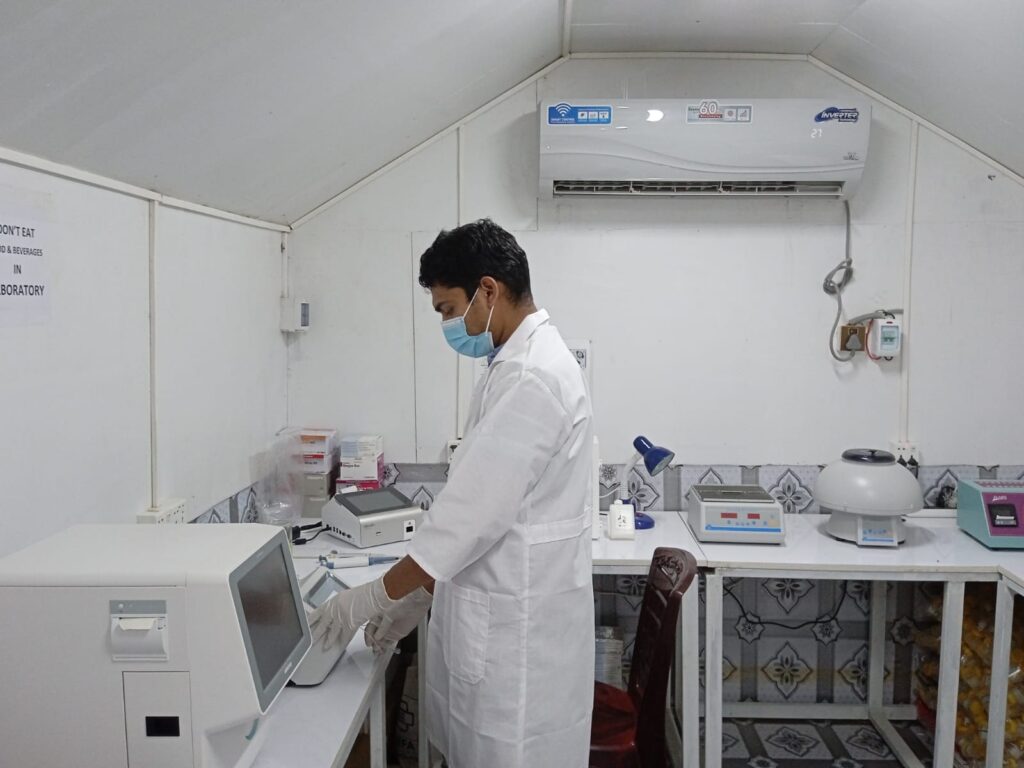 NCD Pathological Laboratory in Rohingya FDMN Camp, Balukhali, Cox's Bazar
Donate to HAEFA's 2022 Fundraiser!
Dear valued donors and advocates, we have launched a 2022 fundraising initiative with ambitions to raise $50,000 by July 9th to commemorate Eid-Al-Adha! HAEFA's purpose of this fundraising  is to provide essential healthcare services and health education to garment workers, Rohingya refugees, and other underserved populations in hard-to-reach areas of Bangladesh including remote chars
HAEFA is constantly in need of public donations to support the Rohingya refugee crisis and COVID-19 relief efforts. Any support, whether donations, outreach, aid in collaboration from personal and professional involvement, or any other method of backing for this fundraiser, would be greatly appreciated! All donations are tax-deductible in the United States.
𝑯𝑨𝑬𝑭𝑨'𝒔 𝑻𝒂𝒙 𝑰𝒅𝒆𝒏𝒕𝒊𝒇𝒊𝒄𝒂𝒕𝒊𝒐𝒏 𝑵𝒖𝒎𝒃𝒆𝒓 (𝑬𝑰𝑵) : 46-2997707
𝑵𝑻𝑬𝑬: Public Health Program (E70)
Text-to-Donate: 53-555 (Keyword: HAEFA)