Healthcare Services Provided by HAEFA in Bangladesh
55,576 women (30-60 years) were screened for the detection of early-stage cervical cancer in 9 Upazilas of Kurigram from Nov. 2019 – Sep. 2022
33,623 women (30-60 years) were screened for the detection of early-stage cervical cancer in 6 Upazilas of Cox's Bazar from July 2021 – September 2022
237,875 Rohingya refugees/FDMN in Ukhiya and Bangladeshi nationals living in the surrounding Ukhiya Upazila (sub-district)  received free medical care in Cox's Bazar from October 2017 to September 2022
34,507 Rohingya refugees/FDMN in Bhashan Char and Bangladeshi nationals living on the island have received free medical care in Bhashan Char, Noakhali, since November 2020
More than 2360 Bangladeshi nationals in Ukhiya received free medical services from the Mobile Medical Clinics of HAEFA in 2022.
Total 3055 Diagnostic Lab Tests were performed at HAEFA's NCD-based Path Lab in camp 09 since January 2022.
COVID-19 Relief Effort for Underprivileged people : HAEFA Provided a two-week supply of food packages for more than 1,500 families (5 members/family) in 5 districts of Bangladesh in 2021-2022.
Cervical Cancer Prevention Training 
A Residential Training on Screening, Treatment & Management for Prevention of Cervical Cancer was held from 24th September to 6th October 2022 at Dhaka Medical College Hospital (DMCH). Organised by DMCH and with the support of UNFPA to the 4th HPNSP through DGHS, the training session was held in the presence of Professor Dr. Nazma Hoque, Professor and Head of Department, Obstetrics and Gynae, DMCH, along with Professor Dr. Fatema Rahman, Professor Dr. Khodeza Begum, Assistant Professor Dr. Lutfa Begum Lipi, Associate Professor Dr. S M Shahida, Consultant OGSB Dr. Samina Sultana, RS DMCH Dr. Mahbubur Rahman Rajib, 3 Junior Consultants, and 4 Senior Staff Nurses. HAEFA members participated in the training session.

PwC Team Visits Bangladesh
PricewaterhouseCoopers Services Limited (PwC Services Ltd) has been a great partner and support for HAEFA in all its humanitarian, emergency efforts as well as infrastructure needs in the FDMN camp settings since 2018. The team visited the HAEFA camps 1W and 09 on 11th September 2022 to see the quality of maintenance of the infrastructure of the health clinics and path lab, and also the operational condition of the path lab equipments, as well as need for further improvement and extension of infrastructure and HAEFA services.

Accessible Healthcare for the Rohingya FDMNs/Refugees
HAEFA healthcare workers have provided free medical care and medicine to the Rohingya FDMNs since its establishment in October 2017. In September 2022, more than 5,100 individuals received free medical care including medicines and diagnostic services from HAEFA. In addition to primary healthcare, the major diseases covered are hypertension, diabetes, asthma, malnutrition, pregnancy with complications, tuberculosis, Dengue, etc.

Kutupalong (Camp 1W):
More than 2,670 patients visited Camp 1W in Kutupalong and received healthcare services.
130 laboratory tests were conducted at HAEFA's semi-automated NCD Pathological Laboratory
Balukhali (Camp 09):
More than 1,950 patients visited Camp 09 in Balukhali and received healthcare services.
170 laboratory tests were conducted at HAEFA's semi-automated NCD Pathological Laboratory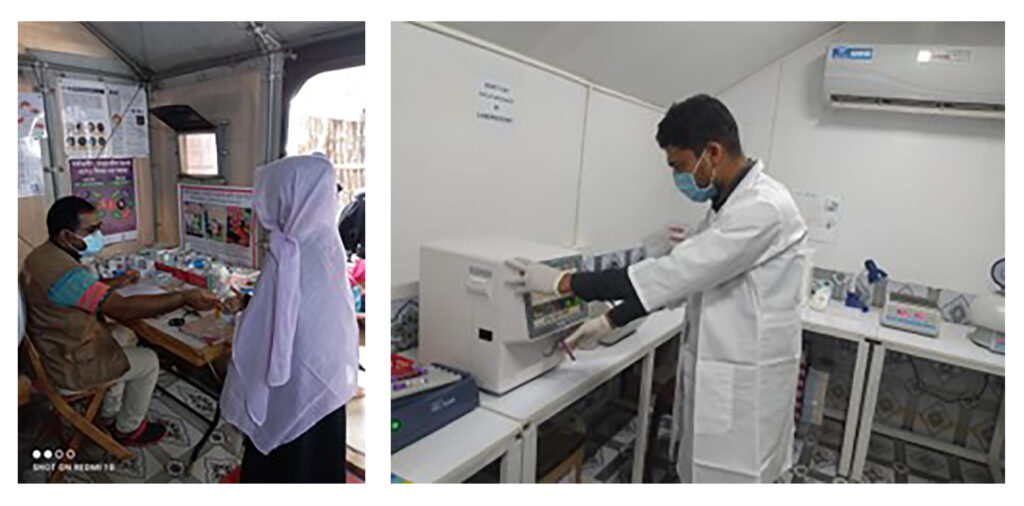 FDMN Rohingya Camp at Bhashan Char:
More than 2,340 patients visited the HAEFA Medical Check-Up and Treatment for FDMN Rohingya Camp at Bhashan Char and received healthcare services.
Activities and Training Attended by HAEFA Personnel
Mr. Zafrul Hassan, HAEFA Bangladesh's Country Director & CEO, visited the Ahsania Mission Cancer General Hospital to visit cancer patients referred by HAEFA and explore opportunities for collaboration to reduce treatment expenses for the underprivileged cervical cancer patients.
Construction work is now underway at Kutupalong Camp 1W's HAEFA Health Post campus  to extend the Patient Triage Area, Flu Corner, Breast Feeding Corner, and Gender-Based and Disability toilets.
Dr. Fairuz Homayara Fariha (Medical Officer, HAEFA, FDMN CXB) attended mhGAP Refresher Training on 27th & 28th September at Cox's Bazar, arranged by the World Health Organization (WHO).
Shamim Akhtar (Lab Technologist, HAEFA, camp 09) attended the training on 'Quality Management and Standard Operating Procedure (SOP) Preparation for the Laboratory' on 4th September 2022 at Cox's Bazar, organized by WHO.
Member Spotlight:


Meet Dr. Asha Akter,  Coordinator of "Mental Health and Resiliency Program – Training of the Trainers," HAEFA!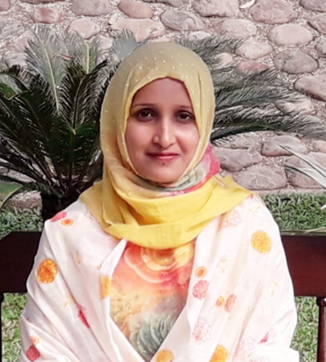 Since childhood, Dr. Asha Akter has wanted to help those suffering from disease and disability. She realized that people enduring physical and mental illnesses especially needed help to address and solve their mental health issues. Therefore, she is completing her MD in Psychiatry and further plans to make meaningful contributions in the field as well as emphasize child/adolescent and geriatric mental health.
Dr. Akter joined HAEFA as a volunteer in August 2021 and served as the Chief Master Trainer of the Mental Health and Resiliency – Training of the Trainer program, aimed to teach people about stress management and raise awareness about common mental health issues that could arise during the pandemic. She also helped with editing and contextualizing training modules, translated them into Bangla, and coordinated the group activities. She found groups of people suffering from depression and anxiety during the pandemic. Common causes include financial difficulties, the death of loved ones, disruption of the normal rhythm of life, and addiction, among other things. Social barriers, including stigma, made it difficult for people to reach out for help. From Dr. Akter's perspective, mental health is an inseparable part of physical health. We must take good care of both physical and psychological health to ensure our overall well-being and maximize productivity. Dr. Akter aims to raise awareness through community engagement, and this is what we need to enhance to improve our mental health and well-being.
Member Spotlight:


Meet Nairita Ahsan Faruqui, the Editor of the HAEFA Monthly Newsletter!
Nairita Ahsan Faruqui grew up in Dhaka, and graduated this year from the Biotechnology Program of the Department of Mathematics and Natural Sciences at BRAC University. She is currently working at the Virology Laboratory of the International Center of Diarrhoeal Disease Research, Bangladesh (icddr,b) and volunteering with HAEFA since June 2021. She has been serving as the Editor of HAEFA's Newsletter since August 2022.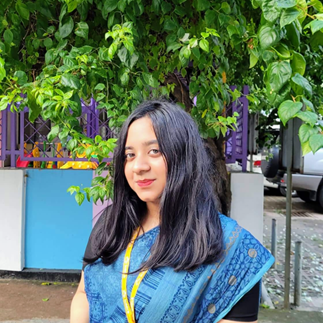 The most challenging part of her role, she relays, is upholding every intricate detail in representing the newsletter. Fortunately, our newsletter team has identified an ideal way of connecting with all the camp coordinators and HAEFA members to stay up-to-date about even the most minor changes and updates. Throughout the work day, Nairita remains alert about anything related to HAEFA that needs to be addressed. "An accomplishment for me would be my personal growth. From being the person still figuring out how she could help, to finally being the person who fully understood that even the smallest effort meant something – I had an entire paradigm shift," Nairita conveys. In terms of plans, she hopes to pursue postgraduate studies and advance in infectious diseases and virology. HAEFA has always worked towards causes that she appreciates and wants to contribute to. Alongside pursuing her career in infectious diseases, Nairita hopes to stay dedicated and committed to her role as the Editor of the HAEFA Newsletter and help expand our reach even further.
HAEFA Cervical Cancer Screening and Treatment
Cervical cancer kills 6,582 women annually in Bangladesh, where the diagnosis rate is 2-3 times higher than in the U.S. and hosts a mortality rate five times higher. HAEFA has implemented a "See-and-Treat" Cervical Cancer Screening and Treatment Program to reduce these numbers, using a one-stop mobile (digital) colposcopy and thermocoagulation.
In Kurigram District, HAEFA provided over 730 women with cervical cancer screenings conducted in Upazila Health Complexes (UHCs). 9 patients were found VIA positive through the initial screening test and referred for further investigation and treatment.
More than 830 women were screened in 6 VIA Centers (Sadar Hospital, MCWC, Ramu UHC, Moheshkhali UHC, Chakaria UHC, Pekua UHC) and 2 VIA camps in the respective Upazilas of Cox's Bazar, including one hard-to-reach Upazila, Moheshkhali, in September.
Twenty patients were found VIA positive, including seven suspected cancer patients, through the initial VIA screening test and referred for further investigation. Cases that tested positive through the initial VIA screening were referred for further analysis. Our team followed up with the patients and organized a second VIA screening test and colposcopy in Cox's Bazar Sadar Hospital, where both colposcopy and thermocoagulation were performed. The Cox's Bazar Project team followed up with previously identified cancer patients and referred them to Chattogram Medical College and the National Institute of Cancer Research & Hospital (NICRH), Mohakhali, Dhaka, for further treatment.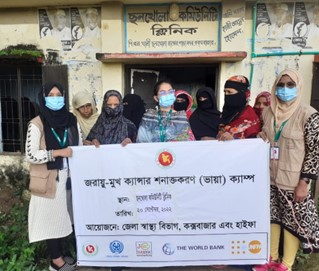 VIA Counseling Training for the Health and Gender Support Project (HGSP) Staff
HAEFA, with the support of UNFPA, the funding from World Bank HGSP, and under the leadership of DGHS and DGFP, organized five batches of training on VIA Counseling for the Community Health Workers (CHWs) of Partners in Health and Development (PHD), Midwives from Hope Foundation and RTM-I, and the Case Workers from BRAC in Ramu, Moheshkhali, Kutubdia, Pekua, and Chakaria.

The purpose of the training was to guide the Health and Gender Support Project (HGSP) field staff, elucidating the misconception of VIA tests among the community people. A total of one hundred and ninety-eight partner staff were oriented.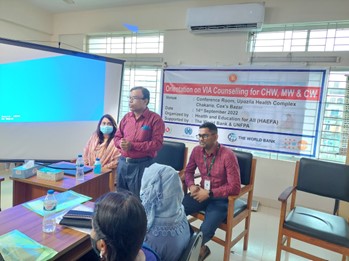 HAEFA Health Clinic for Host Community
From the beginning of the Rohingya FDMN (refugee) crisis, HAEFA has provided primary medical treatment and medical services for both non-communicable diseases (NCD) and infectious diseases (ID) to the FDMN population as well as to the surrounding host community. Underserved patients from beyond the camp have also been coming to HAEFA Health Clinics to receive treatment.
Free services provided to patients include screening and treatment for non-communicable chronic diseases (hypertension, diabetes, asthma, malnutrition), infectious diseases, and family planning services. However, due to recently installed fencing setups, the surrounding communities have limited access to health clinics to receive free medical screenings, treatment, and follow-ups. To help these host community patients access care, HAEFA has started a new weekly Mobile Medical Clinic for the host community. 
In September, the HAEFA Health Clinic services for the host community were provided on the 5th, 15th, and 22nd of the month to more than 190 patients, at three different locations, including the Palong Model High School, AKNC High School, and Sonarpara High School, Ukhiya, Cox's Bazar, Bangladesh, respectively. HAEFA has also provided primary medical treatment and medical services for non-communicable diseases (NCD) and infectious diseases (ID) to these patients and provided family planning counseling, including low-barrier methods, to 404 people.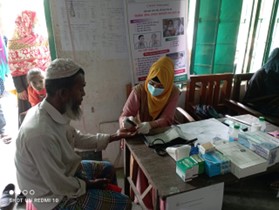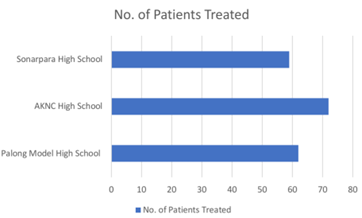 AMEZ supports HAEFA since 2018
The Managing Director & CEO of Abdul Monem Economic Zone (AMEZ), Mr. Mainuddin Monem, MBA, Harvard Business School, is giving a check to HAEFA's Country Director, Mr. Hassan. AMEZ aims to become a catalyst for the economic and social development of Bangladesh. AMEZ has been supporting  HAEFA for its humanitarian work and efforts since 2018.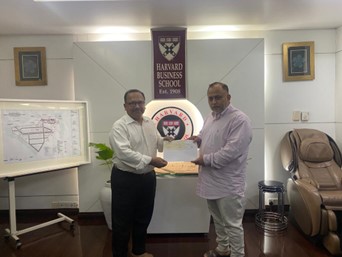 Donate to Support Our Cause!
HAEFA is in need of donations to support the Rohingya FDMN (Forcibly Displaced Myanmar Nationals) healthcare and COVID-19 relief efforts. Any support, whether donations, outreach, aid in collaboration from personal and professional involvement, or any other method of support to HAEFA and its underprivileged, underserved, and displaced beneficiaries, would be greatly appreciated! All donations to HAEFA are tax-deductible as allowed by the laws of the United States.
HAEFA's Tax Identification Number (EIN): 46-2997707
NTEE: Public Health Program (E70)
Text-to-Donate: 53-555 (Keyword: HAEFA)
For more regular updates on the Rohingya refugees and other activities related to our organization, be sure to give us a like on Facebook and follow us on Twitter and Instagram. 

HAEFA Newsletter Editorial Board
Nairita Ahsan Faruqui
Editor

Raihana Mehreen
Associate Editor

Dr. Kaniz Ferdouse Mou
Associate Editor

Contributors for the October Newsletter:
Somayea Sultana Mim and Sajia Haque

Copyright © 2022 Health and Education for All (HAEFA), All rights reserved.